Elenianna.com is an online platform that offers a diverse range of high-quality Greek food products, sourced directly from local producers. With a focus on promoting the richness and authenticity of Greek cuisine, Elenianna aims to bring the flavors of Greece to customers worldwide. Here are some key details about the website:
1. Product Range: Elenianna.com offers a wide selection of Greek food products, including extra virgin olive oil, olives, honey, herbs, spreads, traditional desserts, and more. These products are carefully curated to showcase the finest ingredients and traditional recipes from different regions of Greece.
2. Direct Sourcing: The platform emphasizes direct sourcing from local producers, ensuring that customers receive products of exceptional quality while supporting Greek farmers and artisans. By establishing strong relationships with producers, Elenianna fosters sustainable agricultural practices and fair trade principles.
3. High Quality and Authenticity: Elenianna is committed to providing customers with authentic Greek products. They prioritize quality control measures, ensuring that each item meets the highest standards of taste and craftsmanship. Customers can expect to receive genuine Greek flavors and culinary experiences.
4. Worldwide Shipping: Elenianna.com caters to customers around the world, offering international shipping services. This enables Greek food enthusiasts from different countries to explore and enjoy the rich gastronomic heritage of Greece.
5. Educational Resources: The website also serves as an educational platform, sharing insights into Greek cuisine, the health benefits of Greek products, and traditional cooking techniques. This helps customers appreciate the cultural significance of Greek food while expanding their culinary knowledge.
We are excited to announce that Elenianna.com has won the prestigious Luxury Food Retailer of the Year Award for Southern Europe! This award is a testament to our commitment to providing our customers with the highest quality luxury foods from around Greece.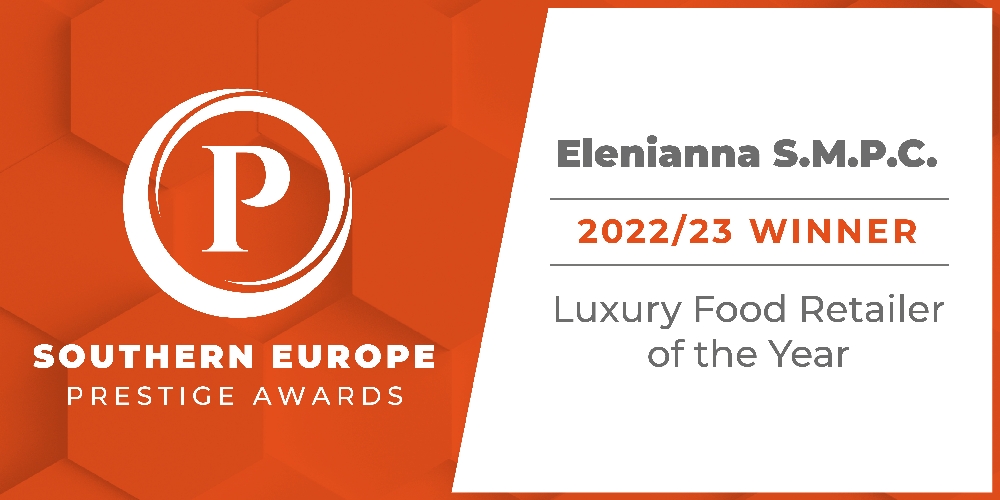 Elenianna.com provides a convenient and reliable way for individuals to access authentic Greek food products, supporting local producers and experiencing the vibrant flavors of Greece from the comfort of their homes.
We constantly research Mediterranean producers for new products and we hope that you will depart on this gastronomy voyage with us.
We hope you love our collection as much as we do!
Kind regards,
The elenianna Team
ELENIANNA S.M.P.C
GR. Registered Company 124248001000 VAT number: GR800470000